In the second edition of our Dynamics GP tips and tricks series, Sharon Keegan, our experienced ERP consultant, will be covering Audit Trail Codes and User Messages. Read our previous edition on "How to maximise the benefits from GP macros" here.
Dynamics GP Audit Trail Codes
What is an audit trail?
Dynamics GP Audit Trail Codes are a way of tracking your data through the system.  When you post a batch in one of the subledgers e.g. Purchase ledger or Sales ledger, it will go to the General ledger, but it doesn't keep the original batch ID.  Instead, when you post, you will get an audit trail code that is attached to the transaction in both the sub-ledger and the General ledger.
The setup for audit trail codes is on the Administration tab, under Setup and Posting:
If you look at some of the above audit codes, a batch that begins with PMAPY is applied to post in the Purchase ledger.  PMPAY is a manual payment and so on.  When you see these prefixes on a journal in the General ledger you can tell what the original transaction was and where it came from.
These codes are particularly important if you feel a transaction is missing or you are working on reconciliation between your General ledger and your sub-ledger.  The Purchase ledger is going to be used for these examples but the same applies to Sales and Inventory.
For a missing transaction that you think posted in your Purchase ledger, but you can't see in your General ledger, you can reprint the posting journal for that transaction (Purchasing Desktop >>Reports >> Posting Journals).  This will have the audit trail code that you can then check for in a General Ledger Smartlist.
The converse of this is that you may not be able to identify a posting in your General ledger but from the audit trail code you should be able to identify the sub-ledger and type of transaction and you can then go to that ledger and print the relevant posting journal (audit trail code is one of the filters available for these reports).
For reconciliations between the ledgers, you can export a Smartlist from each ledger with the audit trail code and compare them.
To conclude, an audit trail code is just a link in the system, like a master number that stays with a transaction regardless of where you are looking at it in the system.
Dynamics GP User Messages
A new feature introduced in Dynamics GP2013 was the ability to send a message to a user or users from within the system.
Why would you use this?  Well, say you want all users to log out at 5 pm because you have to run some file maintenance.  Ordinarily, you will send an email, then a reminder email.  You may have to walk or phone around your office.  With the User, Messages feature you can send a message within GP to all users who are logged in or you can send to specific users.
To do this go to the Administration desktop >> Utilities >> System >> Send Users Message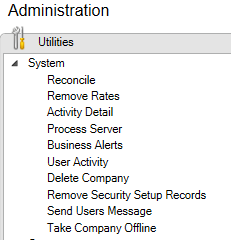 Here is what the message looks like when it pops up on the user's desktop:

The information in this blog is based on simple versions of events, if you would like any further assistance, then don't hesitate to get in touch with your Account Manager or contact us via our website. Look out for the next edition in our series of Microsoft Dynamics GP tips and tricks blogs which will focus on Combining and/or Modifying Debtor IDs and Creditor IDs.