Microsoft Dynamics GP tips and tricks – How to maximise the benefits from GP macros?
If you are using Microsoft Dynamics GP as your organisation's finance solution of choice, it is important to ensure that you are maximising the benefits and functionality of this great solution. In a series of tips and tricks blogs, one of our experienced ERP consultants Sharon Keegan will highlight some of the best practices that can help you get the most from your Dynamics GP solution. The first element Sharon will focus on within this series is Microsoft Dynamics GP macros.
What is a Dynamics GP macro and why would I use one?
It's likely that most of you reading this will have used Excel macros but maybe not Dynamics GP ones.  A macro is a recording of your actions within a program that you can run later to repeat the same actions.  This makes it quite useful as long as you remember that it will only repeat what you did so it will just stop if it encounters something new or unexpected e.g. starting it in the wrong window.
An example of a simple macro, used with Dynamics GP shortcuts, is to have a shortcut to the creditor enquiry window but sorted by date (the default is document number).
To record a macro, go to Microsoft Dynamics GP >> Tools >> Macro >> Record.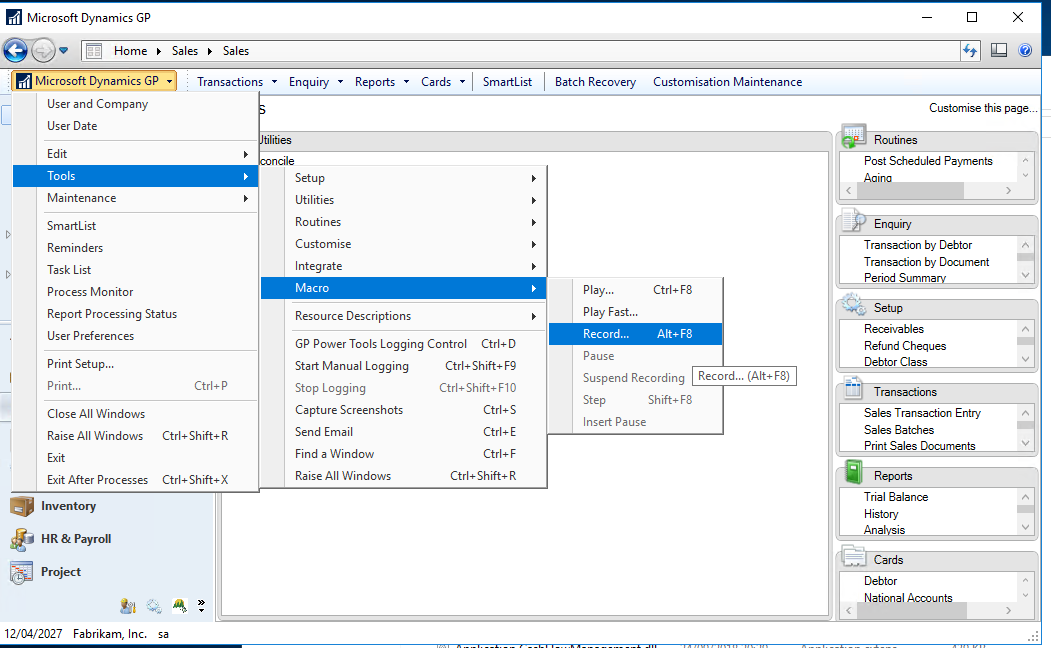 You will be prompted for a location to save this to.  Once you hit save, you are now live recording so go to the Transaction by Creditor enquiry window, change the sort option from document number to date and hit redisplay.   As that's all we want this macro to do, we're finished (I did say it was simple!) so in the same window, go to Tools >> Macro >> Stop Record.
Now you want to add this macro to your shortcuts by going to the shortcuts bar, right-click and add the macro.  Give it a meaningful name and now you can click on that shortcut rather than going into the enquiry window and it is already sorted by date.  You could even add it to your start-up folder if it's a window you use every day and want to open automatically.
The above is an example of a very simple macro.  More complex macros are used for tasks such as bringing in data. For example, if you have started using the m-hance Electronic Funds Transfer (EFT) module and want to import your supplier bank details, you could write a macro where you would record the process of entering one creditor's EFT details, then copy that into a mail merge document.  Link it to a spreadsheet with the rest of the data you want to bring in. Finally running the mail merge would then create a multiple pages, repeating macro that you can run in Dynamics GP.
If you would like any more information, then don't hesitate to get in touch with your Account Manager or contact us via our website. Look out for the next edition in our series of Microsoft Dynamics GP tips and tricks blogs which will focus on Audit Trail Codes.
Sharon Keegan
Dynamics Consultant