It's International Women's Day on Wednesday 8th March and so here at m-hance we wanted to celebrate by showcasing some of the fantastic females we have working within our organisation. WISE found that the science, technology, engineering and mathematics (STEM) sector is continuing to grow at a rapid rate. From 2017, core STEM employment had increased by 6.3%, which equates to more than 6 times that of the total rise in the UK's overall employment rate. According to government-funded growth network Tech Nation, nearly three million people, or 9% of the UK workforce, are employed in the UK tech industry. Just 26% of those in the tech workforce are women. We are delighted to be ahead of the curve when it comes to our female workforce in the traditionally male-dominated technology industry. In 2022, the percentage of women in large tech companies was reported as 25%. m-hance outperforms industry standards with 30% of our tech roles filled by women. We are extremely proud of these statistics and firmly believe that these are as a result of our inclusive culture and supportive company polices where we can provide things like flexible working hours as well as many other benefits. In this blog, we'll hear from some of our female colleagues from across our organisation about their experiences of building and establishing a career within the technology sector:
Sue Cross – i365 Product Manager
My first experience of computers in the workplace was in my gap year between school and university where I used a word processing application called 'Wordstar'.  I was impressed with the ease with which large volumes of data could be entered. Correction fluid was a thing of the past; I wanted to learn more – I was hooked.
I enrolled onto a computer studies course and found to my surprise I enjoyed programming, particularly COBOL.  There were not many females on the course, about 5 in a class of 35, but I really did not notice the difference in numbers, we all just helped each other.
It was as a customer that I had my first encounter with the software that today forms one of the solutions provided by m-hance.  The company I worked for (as a programmer) had a contract with their software provider whereby their in-house programmers could develop their code.  When I wanted to move on, I approached the software provider (m-hance) and have been with them ever since.
I've never thought of myself as a female developer in a mainly male environment; I have worked with both.  Developing is often thought of as a solitary profession, but in fact it involves a great deal of teamwork and collaboration with other departments. There is a common saying that "there is no 'I' in team", I would like to add it is not 'He' or 'She,' it is 'WE'.
Finally, a tip for any budding developer, learn to type!
Tory Cassie – Business Development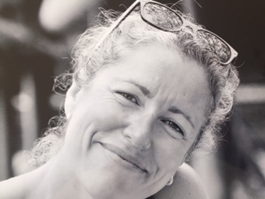 Growing up, my dream job was to be a volcanologist. I graduated with a geography and geology degree and planned to travel the world climbing volcanoes whilst wearing boots and carrying a rucksack. That did not go to plan. After graduating I went to London, to a recruitment fayre and ended up working for a company who implemented Microsoft Great Plains software. My first job involved being suited and heeled, implementing Microsoft Great Plains into a large bookstore chain. This quickly led to engaging in sales and my life has been in IT. Whilst not a developer or consultant, I still engage with organisations to try and solve business issues.
Dedicating my time to a specific sector (not-for-profit) has enabled me to understand how technology can have an impact, how it can change an organisation and more recently how it can provide smarter, improved ways of making a difference as these organisations embrace digital transformation.
I have always had a passion for Microsoft technology and the fast pace that they release new products and functionality means that I am always learning, trying and testing new things. Meeting new charities and understanding their challenges and how we can help them gives me great pride. Every day is different, every charity is different and even after 21 years I am still learning and thinking of new ideas.
Vicki Burton – Dynamics 365 Consultant
Although I always jumped at the chance to do anything with technology (I was in one of the first classes at secondary school to take an IT GCSE), I originally chose a different career path: I went to Camborne School of Mines and did a 'Mineral Surveying' degree (which included surveying underground mines). My first job after finishing my degree was working for Hanson Aggregates as an Estates Surveyor. This was also a very male-dominated sector (probably more so than the tech industry), but I can't say that I ever really thought about that.
After several years as a surveyor, I realised I was missing the 'buzz' I used to get from working with tech and made the decision to try to get into an IT-related job. Without any tech-related qualifications or experience, as a 'way-in', I took a (much lower paid) role as a System Administrator for the Public Health department of my Local Authority. This involved looking after the department's database and managing their web pages. I loved teaching myself HTML and CSS! When the role of 'Website Team Leader' came up, I jumped at the chance, and soon found myself managing the Council's websites and online systems.
My first involvement with Microsoft Dynamics CRM, was working with the Council's Microsoft Partner to build a web-portal that connected to the Council's CRM (Dynamics CRM v4) to allow residents to report such things as 'missed rubbish bin collections' or 'dead animals in the road needing clearing'! When the Council upgraded from Dynamics CRM v4 to 2011, I took a lead role in the project. Once the implementation project was complete, I found myself missing working with Dynamics, so I got in contact with the Microsoft Partner and asked them for a job. Only 6 months into my new job as a Dynamics Consultant, the partner was acquired by IBM. I still can't believe I went from working for a small local authority to working for a global tech firm in less than a year!
Working for IBM gave me some great experience, however, I had preferred my time working for a smaller Microsoft partner, so I was so happy to get my role as Dynamics 365 Consultant for m-hance.  I love my job – I feel lucky to work with some very knowledgeable and generally lovely colleagues and I love working with our NfP clients. To go from learning about a charity's processes, current systems and 'pain-points' in discovery, to designing and implementing a Dynamics solution that works well for them gives me a great sense of achievement and job satisfaction. I am lucky to have a role that involves lots of face-to-face interaction with our clients explaining how the technology works along with time building solutions using that technology.
Louise Johnston – HR Director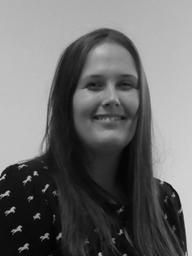 By the time I reached my third year in university I had decided that I wanted a career in HR. Upon leaving university I applied for many entry level HR roles but kept getting the same feedback; "not enough experience". I was working in a call centre at the time as a stop gap and didn't particularly enjoy the call centre environment, nor did I see myself there long-term. Frustrated with the lack of HR opportunities as a graduate, I applied for a job in a local IT business in their partner service centre. I was invited for an interview and subsequently told I wasn't successful. Fate then played its hand; the company got back in touch a few weeks later to say they were looking for an HR Assistant and asked if I was interested. The rest, as they say, is history.  I will always be grateful to the recruiting manager who saw my potential and opened up the opportunity.
I have worked in the IT sector ever since, which is over 14 years. I've been a part of the Senior Management Team here at m-hance since 2015. I love the variety, the ever-changing business strategy to keep up with the market, but most importantly the employees the sector attracts. Over the years I have worked with some fantastic people with so much passion for technology who want to do their absolute best for the customers that we serve.
At m-hance, inclusivity is incredibly essential to us. One of our fundamental values is to ensure that everyone is treated fairly, regardless of their age, race, religion, or gender. If you would like to join the m-hance team, we presently have a number of opportunities.. Visit our careers page for more information.