A guide to helping charities adopt a digital world by using the Cloud
In the same way as most organisations, charities have been particularly hard hit by the pandemic; with incomes affected by temporary store closures and the cancellations of their usual, busy events and fundraising programmes. As a result, a lot of charities were forced to make adjustments to their methods of operating.
Many charities have turned or are now turning to digital transformation for help, moving to the Cloud as an option to reduce costs, boost scalability, and enhance security. As well as providing charities with a flexible and resilient infrastructure, the Cloud is also a great provider of virtual storage. Such flexibility is a valuable asset at this time with charities seeing a huge uptake in and demand for their services.
As life returns to normal, most charities will move toward a hybrid model that combines both robust digital services users now expect, with selected in-person services. To this end, the Cloud will be an indispensable component of helping organisations continue protecting the vulnerable.
The Cloud is a cost-effective way to enhance performance

Charities may be reluctant to invest in new tech due to their tight budgets and fewer fundraising options at the moment. It is, however, inevitable that their increasing workloads, service demands, and new operating models will make it impossible not to modernise. If and when that day comes, the Cloud is definitely the way to go.
In this case, charities need to develop a clear vision of what workloads will be migrated to the Cloud – for example, 'we want our email in the Cloud' – and then work backwards to design a process that suits their specific needs. As a result, file sharing, unified communications and more all can be supported by this approach.
As a charity, it is crucial to ensure that every workload drives value because it keeps costs down and maintains performance. By taking an incremental approach, you can also manage Cloud sprawl more easily. When charities are informed about their consumption levels, they can be sure that staff, volunteers, and service users will all benefit from the Cloud's scalability and stability, without spiralling costs.
It is obvious that charities have faced tremendous hardship over the past two years. Adding to the financial difficulty is an understandable increase in demand from service users. Moreover, as the effects of COVID-19 continue to reverberate throughout many communities, despite the easing of many restrictions, people will still be heavily reliant on aid beyond 2021.
It is imperative that charities are able to ramp up IT resources quickly as demand spikes and scale down in troughs without bleeding cash. It is far more challenging to do this with old IT infrastructure and technical debt. Keeping legacy tech up to date can be difficult and costly for charities and will not lead to the scale or flexibility they need today. Instead of continuing to invest in outdated IT infrastructure, it can actually be more cost-effective for charities to transform and move to the Cloud.
Working as a team from a distance in a safe and efficient way
Almost every industry has experienced difficulty implementing remote working and adapting to a shift in customer behaviour online since the pandemic began. Charities have faced some additional challenges meaning that, partners, volunteers, and beneficiaries are needing to collaborate to achieve the organisation's goals.
The success of any charity depends on these stakeholders being able to work together, so finding ways to accomplish this safely and efficiently online has been critical. The use of cloud-based applications can improve collaboration, so charities seeking to keep costs down should consider taking advantage of the tools that are already available.
Through Microsoft Teams, for example, a software like Microsoft Dynamics 365 can be used by charities for segmenting volunteer work, internal communication, and so forth. By using the best Cloud hosting service for your charity, you can safely host your websites and other content. Charities also have to consider how to protect sensitive data now shared and stored over the Cloud, that would normally be exchanged face-to-face or kept on-premise before the pandemic.
Public Cloud providers like Azure and Google Cloud are the most popular routes to using Cloud services, but charities might not have the in-house expertise to know what steps they need to take to keep their data secure. Many organisations find this process particularly challenging, and in some cases, this can prevent them from moving to the Cloud.
It is beneficial for charities to work with third-party partners to manage the Cloud migration process. They can help charities carry out risk assessments before engaging with the move to the Cloud to ensure security is maintained. Charities hold a significant amount of sensitive information. As such, it is vital that they have support in evaluating the security protocols of Cloud solutions, to ensure that the most critical information will be identified, secured, and protected in the future.
Looking to the future

Adaptability and innovation are essential to the survival of charities. Charity organisations have been forced to postpone their in-person projects due to COVID-19, crippling their ability to help the most vulnerable people and hindering fundraising activities. Migrating to the Cloud and digitally transforming systems will allow charities to continue to reach society's most vulnerable while not incurring huge costs.
The process of moving to a Cloud environment and managing it afterwards can be complex and time-consuming. Working with an external partner can help charities that lack in-house expertise and technical skills to simplify this process. These experts can provide expertise at a cheaper cost than finding and hiring the right staff members.
It is therefore vital to prepare charities' IT systems now that the country has opened up again. This will mean they will be prepared to take advantage of whatever changes lie ahead, including the shift to hybrid operations that incorporate digital technology.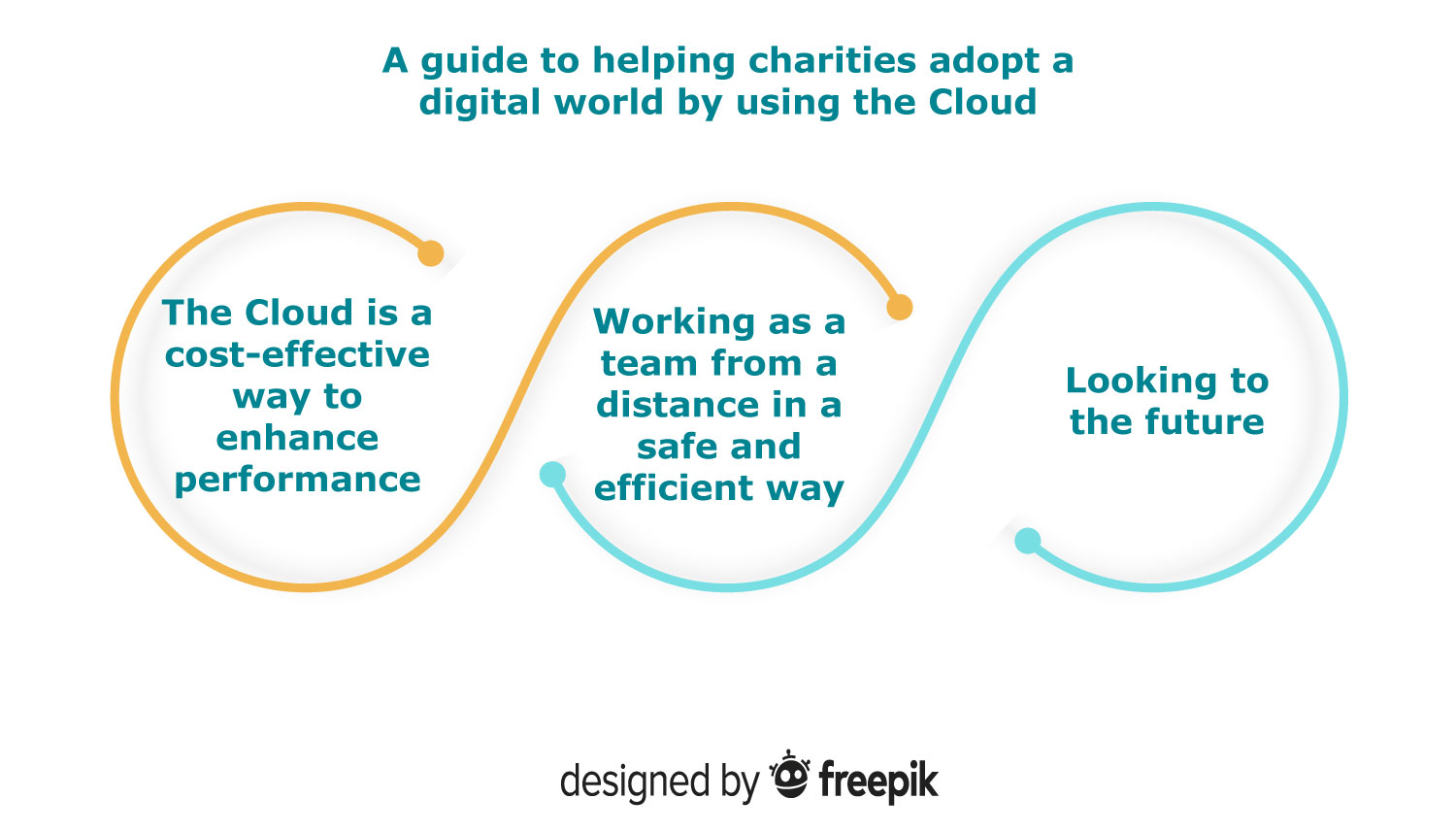 If you would like to speak to one of our experts about helping your charity to adopt the Cloud, don't hesitate to get in touch and one of our experts will assist you.
Racheal Hehir
Marketing Executive