The presence of a clear digital strategy today is essential to the success of charities – it means maximising the use of technology as part of your overall strategy. It can provide you with the opportunity to maximise your social impact and income streams by aligning your digital strategy with your vision, goals, and mission. In addition, technology can offer you completely new possibilities, transforming how your charity interacts with all its stakeholders – not just beneficiaries, but also staff, volunteers, policymakers, and the public.
Despite this, many charities find this challenging. A recent report revealed that 60% of charities in the UK have a digital strategy but that there are still 40% without one. Almost a third of charities (36%) want their CEO or Board to develop or implement a digital strategy.
We believe the key to success is to not become overwhelmed by the task but to start small. Having the right people on board is also essential. Getting your charity's digital marketing strategy off the ground isn't easy. Here are a few tips to help.
What to consider when adopting a charity strategy
1. Plan big but begin small
The vision and end-goal will be key, but start small with something achievable.
So many digital strategies fail because they try to take on too many tasks at the same time or never get off the ground due to overwhelming costs. The problem is that central planners sometimes bite off too much with a "big bang" approach rather than using what we can call "evolutionary acquisition", in which stakeholders on the ground gradually introduce and improve more complex IT systems.
We at m-hance have observed organisations pull back from promising digital schemes in the early stages of their development because the programme appears too large scale. Breaking things down into manageable steps can help. It is best to choose a small, attainable goal and learn from it. Learn from failure – and use what doesn't work to refine and improve your next plan.
2. Be open to learning from others
If possible, talk to other organisations of a similar size and nature and find out what they did well or where improvements could have been made. While organisational experiences are always unique, a few common pitfalls do exist.
In order to connect with other organisations grappling with the same questions, online or in person, it can be helpful to attend events, participate in forums, and connect with others. The team here at m-hance has experience in dealing with a variety of charities, of all sizes, so we can share insights into the struggles and accomplishments of others within the sector.
3. Define your success metrics
Establish your returns on investment targets and determine how you will measure them, just as in other areas of your organisation. Do regular measurements and don't wait until the end of the project to check whether things are going well.
4. Work with the right partner
It is common for the people assigned to drive these projects forward in charities to not have enough time and/or not have the necessary experience. Be sure to have someone on your staff or on your Board who understands your culture and the digital landscape.
You'll find a lot of companies selling services out there, and everyone has a part to play, but make sure you have someone on your side who knows the technology and the sector well enough to speak the right language and make sure your company gets exactly what it needs.
5. Make sure your users are on board
If you implement this new technology, who will it be used by? You should ensure users have a say throughout the project, such as including them in the decision-making process as well as approving designs, rather than giving them something at the end and then receiving negative feedback. Rather than being dominated by technical preferences, trust in user-led design. It is important to note that the second principle of the Charity Digital Code is that "Charities should make the needs and behaviours of beneficiaries and other stakeholders the starting point of everything they do digitally.".
Take a look at how simple things have become at home with smart TVs, smartphones, and social media, and use those examples to show you how you can improve your services.
It's important not to overlook your internal systems. Developing internal insights into your current digital use can assist you in understanding, communicating, and emphasising how the status quo aligns with the external environment and the needs of your stakeholders (colleagues, beneficiaries, supporters, etc.). Having an internal perspective will also help you bring people onboard with the digital strategy development process, clarifying why things are as they are and what needs to change.
6. Don't stop
It would be ideal to see the successful delivery of your digital strategy from the start, but this is rarely the case. Keep improving and listening to the problems your users or beneficiaries are experiencing. Look for areas where services are not working well enough or where they might be confusing.
Instead of focusing on big projects every five years, improve parts consistently when needed. You can test and learn from user-centred processes, redesign your digital offer with input from your employees and core beneficiaries, but you can also be inspired by new technology, legislation, or other sources.
7. Take pride in your accomplishments
Finally, let everyone know how the project is going and celebrate your successes throughout the process, including giving recognition to those who worked on and contributed to the project. Make sure you are willing to share what you have learnt with other people. Share your successes with your users, your peers, and even the public as you move along in the project. By doing this, you can get new ideas from unexpected places, as well as help others who may be trying to achieve the same goal.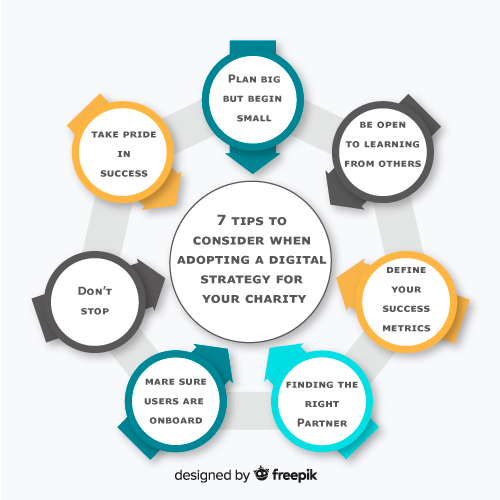 After considering a digital strategy, it is important to think about which digital tools your charity will want to use. The last few years have seen technology transform almost every aspect of our lives. In order for charities to be successful, it is critical for them to improve their technology and embrace the new digital era. If you are interested in speaking to one of our m-hance experts about tools that can help to start your digital journey, then please do not hesitate to get in touch.
Racheal Hehir
Marketing Executive