What is driving more businesses to utilise Power Apps?
It is common for us to receive questions from clients and organisations who are either curious about how to utilise Power Apps or interested in how they could overcome a problem or achieve a goal.
The Power Apps tool allows you to create custom applications that suit your internal business needs, using many powerful features of the Microsoft (Office) 365 and Microsoft platforms. Power Apps provide users with the ability to quickly create apps that connect to their business data, whether it's stored in the underlying platform or in various online and offline platforms such as SharePoint, Microsoft 365 or Dynamics 365.
The software's drag-and-drop interface makes it easy for users to add various controls like text fields and choice fields, as well as media, forms, and screens however they like. As soon as an app has been created, users can publish it and share it within their organisation.
For businesses, Power Apps are an amazing way to take control of their app-building process.
There are two main types of Power Apps you'll come across – model-driven apps and canvas apps.
Model-driven apps

In a model-driven app design, the components make up most of the design. Their rich design capability comes without a coding requirement – the layout is determined by which components you decide to add to your app. Model-driven apps can be simple or complex, and they are also responsive, operating across multiple platforms from desktops to mobile phones.
Canvas apps

The design of canvas apps is similar to the design of model-driven applications in that no code is required, but designers do have more control over the app layout. By dragging and dropping elements on a canvas in Microsoft Power Apps, you can build the app as simply as you would a PowerPoint slide. You can specify logic and process data using spreadsheet-style expressions. Using canvas apps, you can integrate your business data from a number of Microsoft and third-party sources.
Top Five Benefits of Power Apps
By now, you should be intrigued by what Power Apps can do for your business. If you still need more convincing, here are the top five benefits driving organisations to Power Apps.
1. Automate manual business processes
Power Apps enable organisations to automate, streamline, and digitise a variety of business processes thanks to their powerful business logic and workflow capabilities. Power Apps are taking productivity to new heights by reducing repetitive manual tasks and improving business outcomes.
2. Responsive & adaptable – no code required
The primary goal of Power Apps is to make custom app creation accessible to everyone without ever having to write a line of code. A typical app has a responsive design, and there is an extensible platform that allows developers to interact with data and metadata, apply business logic, and integrate with external data.
App development traditionally has also always included different versions of an app for each operating system (iOS, Android, and Windows). It is extremely time-consuming and expensive for businesses to maintain multiple versions of an app and also increases their requirement for development resources. Power Apps eliminate the differences between operating systems by delivering all your custom apps through a single Power App platform. Basically, it acts as the container for your app, allowing it to run seamlessly across all browsers and platforms.
3. Power Apps can be used by developers & non-technical employees alike

Developers can make use of Power Apps, as can non-technical employees such as business analysts or IT managers. Therefore, practically anyone would be able to develop their own custom application within an organisation.
Although it is worth mentioning that users must have some technical knowledge and experience of the tools and data they are using. Nonetheless, it will certainly reduce the load on certain teams and limit additional design costs. Should you need to work on more complex functionality, you can always bring in more qualified developers.
4. Power Apps has powerful integrations with the rest of the Microsoft suite

The integration ability of Power Apps with other Microsoft products is among its strengths, particularly with Microsoft (Office) 365 and Dynamics 365. Therefore, if you have specific processes that use parts of the Microsoft suite, such as Excel or SharePoint, then a custom app built with Power Apps can bring them all together within a streamlined, convenient user experience.
Additionally, Power Apps can be integrated with external tools and services, providing a variety of possibilities.
5. You can make sure your app is completely suited to the needs of your business
A major benefit of Power Apps is that the business apps you create yourself can be completely tailored to meet the needs of your company and employees. Whether you're adapting Power Apps to your teams' ways of working or addressing a particular pain point, the vast array of tools and features ensure you're able to build a solution that works for just for you.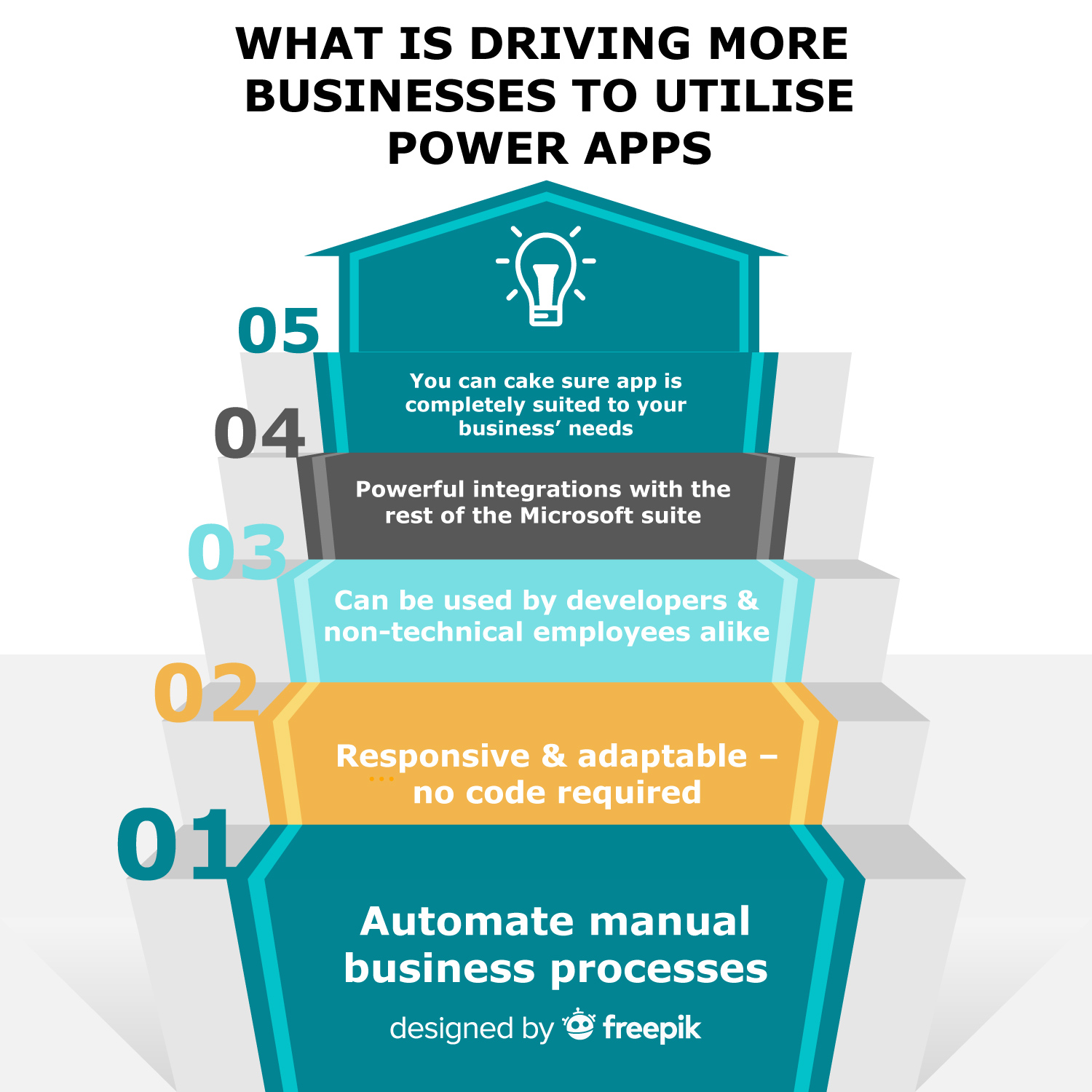 Using Power Apps as part of your digital strategy can provide many benefits to your organisation. It has huge potential to transform the businesses who choose to use it. Trying to figure out how to make Power Apps work for your business? Talk to our team who can help you get set up today.