Beyond meeting your organisation's basic productivity needs, there are many benefits to switching to Microsoft 365 for charities. If your organisation is looking to save money and be more efficient in your operations, then moving over to Microsoft 365 can be very beneficial in many ways.
Microsoft 365 is Microsoft's cloud-hosted, subscription version of its traditional desktop version. Microsoft 365 is designed to bring together all of the key stakeholders within a charitable organisation. Documents can be accessed and shared by colleagues and other key stakeholders from within the organisation, from wherever and at any time. It is so much more than just the Word, PowerPoint and Excel apps that we all know and are familiar with. It is an entire collection of apps specifically designed to improve productivity and collaboration for charities. We have migrated many Not-for-Profit clients onto Microsoft 365, so we practice what we preach and have seen how it has changed the way that many organisations have been able to get their teams to collaboratively work together.
As a result, we are advocates of encouraging our Not-for-Profit clients to move onto Microsoft 365. Here are the 5 reasons why:
1. Empower your mobile workforce – Digitally connect your team to securely access and share files from anywhere via any device such as desktop, laptop, tablet or mobile phone. Access your board reports and grant applications, share ideas with your team.
2. Collaborate with volunteers and partners – Create a collaborative environment for donors, volunteers, and partners outside your organisation by allowing them to view Group sites, resources and video conferences.
3. Always up-to-date – The cloud keeps you always on the most recent version of Microsoft 365 and its suite of apps. It's easy to update, so you'll never have to rework outdated software again. It is a key feature appreciated by charities, in particular, that allows multiple people to collaborate on a single document in real time, at the same time, without the hassle of identifying the 'latest version'.
4. Cloud-based security and privacy – Microsoft has long been a leader in cloud security and privacy. With 99.99% guaranteed up-to-date and organisational compliance, you can rest assured that your data is always secure. Security, compliance, and privacy controls are already built into Microsoft 365, and can help organisations comply with GDPR regulations.
5. Licensing for charities – Microsoft helps charities save money by providing a variety of free or heavily discounted licensing plans that suit the individual needs of employees, volunteers, and fundraisers. Monthly subscriptions allow you to instantly and easily scale up and down based on your occupational needs – thereby lowering licensing costs.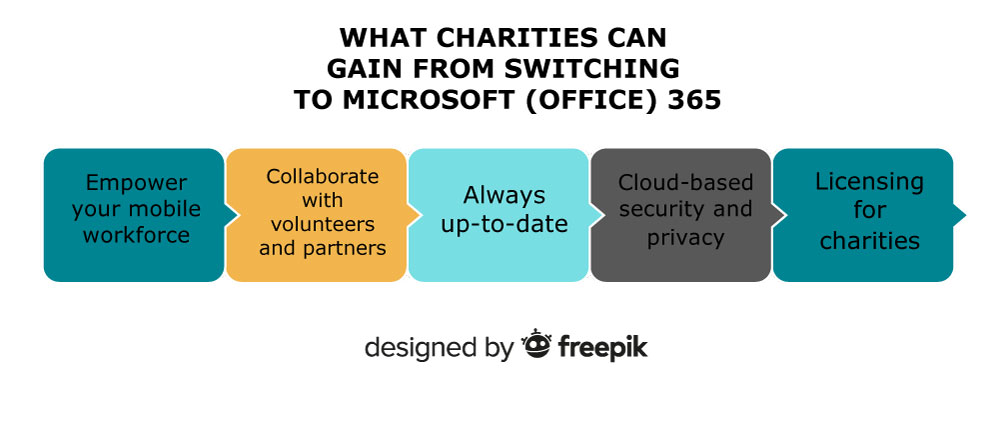 How the right Microsoft partner can help you
Your chosen Microsoft partner should be able to help you determine which plan is best to suit your individual needs, migrate your documents and emails to Microsoft 365, enforce security permissions over all your data, and empower staff through training and documentation to maximise adoption.
Additionally, you should be able to benefit from your partner offering a wide range of support services, including telephone, and onsite response, infrastructure and network support, and anti-virus and security management. By outsourcing your IT system, you can focus on your core organisational operations while having the peace of mind that your IT system is in safe hands.
We have a number of "Kickstart your journey to the Cloud" packages available that will enable you to move to Microsoft 365 in just one day, with prices starting from just £950. To speak with a dedicated charity expert or to find out more, please contact us today to book a call with a member of our team.
Racheal Hehir
Marketing Executive