Users of Microsoft Dynamics 365 Business Central can celebrate! Microsoft recently launched a wave of updates in its 2022 Wave 1 release, which include various new features for Business Central with the goal of assisting users in becoming more productive. Dynamics Business Central is a full-featured ERP business management system built for small to mid-sized businesses that want to get the most out of their current technology. The Microsoft Dynamics 365 Business Central 2022 Release Wave 1 demonstrates Microsoft's dedication to this long-term application.
One key aspect to highlight is that investments into this release wave are targeted on assisting users, whether new or established customers, get to productive usage faster by offering in-app enhancements to help them get started. In addition, the "Help Panes" capabilities have been expanded, making it the go-to resource for users.
Furthermore, Business Central customers may benefit from being more productive than ever before with continuing geographic expansion, increased performance, and usability by concentrating on simpler menu navigation.
Here are a few more of Business Central's main enhancements:
Use Excel to design layouts for reports 
Excel layouts now function similarly to Word in that they may be changed and saved back into Business Central. Users will be able to build and change report layouts using the complete palette of Excel features such as sliders, charts, and much, much more.
To create an Excel layout, go to the report request page and select the 'Excel document (data only)' option when running the report. The report then creates an Excel file with sample data and the fields specified in the report definition. Following that, you can simply add your layout to various tabs in the Excel file. Test the layout by importing it as a custom layout into Business Central. When this new system has been certified, it will be available for usage. Go to the request page and run the report with your new layout.
Microsoft's Help window contains context-aware links
Business Central will now be able to deliver context-aware links to guides and learning materials, helping to flatten the learning curve and unblock individual users in executing business processes. The context-aware material will be given to you through the new Help window, which is currently available in many Microsoft applications. The Help pane will become the greatest location to go if you want to become unblocked using this route.
Security administrators allowed to create default permission set assignments when a user signs up
Business Central security managers are able to choose which permission sets or user groups are allocated to new users by default using this new functionality. This is relevant for licence or plan users as it makes it much easier for the administrator to guarantee that the user has the appropriate amount of access from the outset.
Outlook add-in — directly add attachments from emails to Business Central documents.
This new and improved functionality, included in the Wave 1 release of Business Central, allows you to take one or all of the selected attachments given by customers through email and upload them directly into your Business Central records.
Within Microsoft Outlook, the add-in will display a list of attachments to the email and allow you to move these to Business Central if necessary.
Check Documents and Journals in Background 
As part of the latest version, Business Central is able to validate documents and journals while you are still working on them. When validation is enabled, the 'Check' FactBox appears next to the document or journal lines, highlighting flaws within the current document or journal line or the whole journal batch. Validation will be performed only after you load a document or journal batch and choose other documents or journal lines.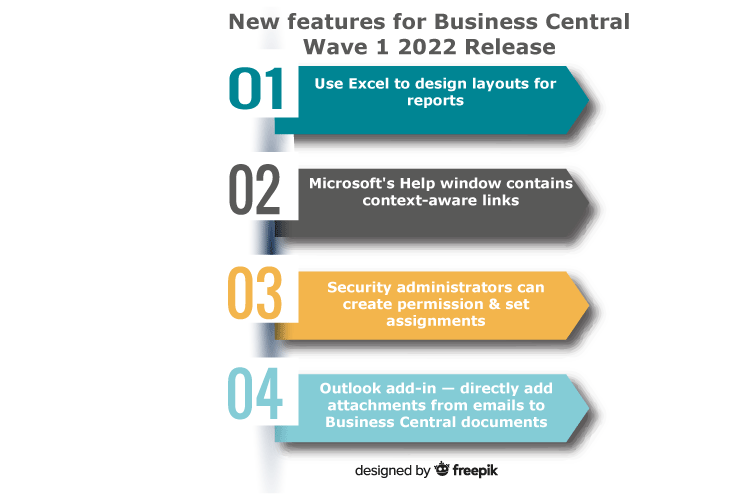 If you've read the above article and want to understand more about the Wave 1 updates, or perhaps you want to migrate from a legacy system over to Business Central, get a quick start with Business Central for the first time, or learn more about all of the Business Central support options we provide, please contact us.
Racheal Hehir
Marketing Executive – m-hance