When donors contribute to your charity, they are placing a huge amount of trust in your organisation to use the donation exactly how you have promised to and expect you to be completely transparent as to how every penny has been spent. High profile charity scandals featured in the media in recent years have put a real strain on the public's ability to trust in charities. This is highlighted in the nfp Synergy "Fundraising Around the World" report released in March 2019, which found that only 52% of the British public trust charities. Up until 2014, trust in charities sat at an average of 67% according to the Charity Commission's 2018 report but has been on a downward trend since then.
The nfp Synergy report showed that a key reason why controversial media coverage has had such a negative impact on trust in charities is the fact that "ethical behaviour is the main thing that people expect from charities". Other key drivers for public mistrust in charities include the feelings that charity fundraising is intrusive, it makes people feel uncomfortable and that generally there are just too many charities.
By looking at the other side of the coin and what the factors are that drive people to feel able to trust charities, this should help to shed some light on the public's expectations about conduct within charities. These factors include ensuring that your charity is:
Ethical and honest
Well-run
Supports and respects your donor and your donor's privacy
Plays a vital role in society
Makes a real difference
Keeps the donor informed about where their money goes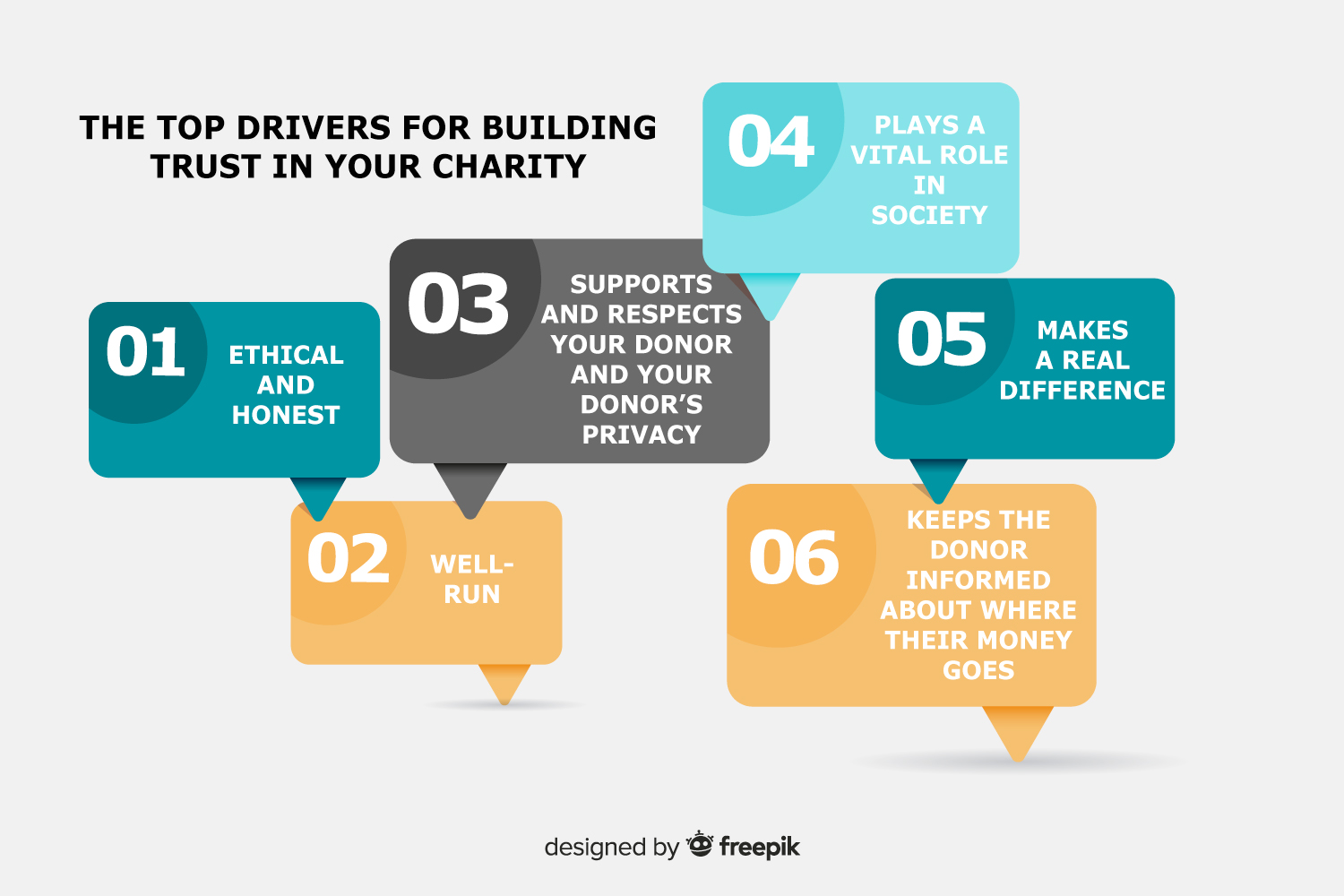 Trust in your charity cannot be developed instantly – it needs to be earned and this takes time. Getting it right can ensure that charities aren't all tarnished with the same brush. This is where accurate data and focused communications become essential elements of your charity's overall strategy.
The importance of data
Collecting, storing and removing data in accordance with the General Data Protection Regulation (GDPR) means that your charitable organisation is not only complying with the law but also adhering to the preferences and consent of your donors. A good Customer Relationship Management (CRM) solution will allow you to have individual donor records that store when that person gave consent.
Focused communications
Having accurate data and systems that monitor how a donor engages with your charity enables you to communicate with your donors in the right way, via a pre-selected communication channel (email, post, text, etc), at a preferred frequency and with content that is specifically relevant to them. These communications are a perfect opportunity to keep donors updated with how you are spending their donations, any upcoming activities/events that they could support and how you are making a difference to the community.
Both elements, when executed effectively, give donors the confidence that your charity is respecting them as well as taking the time to understand how they want to be communicated with. Not only this, but personalised and focused communications add a human element to your charity – making donors feel like they are being dealt with as individuals rather than as part of a mass mailing list. This all helps to develop trust.
If your charity decides to develop a digital strategy that revolutionises how you process data as well as how you communicate with your supporters, the next step is to look at effective solutions that can meet your requirements. Many charities have already turned to dynamic and reliable CRM systems. From one central place, charities can build strategic marketing campaigns informed by data, report and track their fundraising performance, automate marketing activity and monitor social media conversations.
For further information about our NfP 365 CRM solution – which is based on Microsoft Dynamics 365 and tailored to the specific needs of charities – download our eBook on the "10 reasons charities choose Microsoft Dynamics 365 for managing supporter relationships."
Jenny Tomlinson
Marketing Manager