Email marketing is a key part of a highly effective digital marketing strategy that has been around since forever – and for a good reason. Many may think that email marketing is outdated due to it being one of the longest established tools for electronic communication; however, if you look at the metrics, they couldn't be more wrong. The birth of email marketing started pretty much at the same time that the internet came in to being. It has evolved considerably over the years and has since become an incredible marketing tool, arguably more important now than ever before.
This type of connection with your audience is the most direct route and is a way of reaching your prospects/leads more effectively even than via social media. Email marketing is only one segment of internet marketing; you can equally easily connect with your audience via social media, websites, blogs, etc. However, e-mail marketing shares characteristics with direct mail far more than these other channels do. True, it can be similarly ignored, but at its best, it can also have that personalised connection,  spark interest or a conversation and even create a degree of intimacy through demonstrating particular understanding or insight.
What is the importance of email marketing?
The importance of email marketing is quite simple; it is a big part of our lives, both professionally and personally. As a consumer, it is how businesses mostly reach us these days. Think about this; how many people do you know that do not have an email address? There's a good chance that you can't name that many. According to Radicati Group, more than half of the world's population uses email as of 2019. Since most consumers will check their email daily, this makes this the number one valid form of communication to nurture prospects and retain a connection with existing customers.
Steps to an effective email campaign:
Define your audience by building your marketing list
Any effective email campaign will be relevant to the correct target audience. Define who your marketing communication is for and tailor it to the audience's needs. Understanding what your audience wants will help better engage them. To be able to get the most out of an email campaign, it is always preferable to send it to a list full of qualified leads.
Have goals! Define and create email goals
All good marketing starts with setting goals. To run a successful and effective email campaign, be clear on what you would like to achieve through these communications. Email marketing is the best way to drive ROI, attract new customers, and engage those already existing customers. Define what would constitute a successful campaign and set that as your benchmark.
Design engaging and responsive emails
There is a demand for diverse, engaging, and mobile-responsive visual material. Consumers are reached every day with different types of marketing communications. Therefore, you should make sure what you are sending is going to make an impression and stand out. There are different types of emails, such as promotional, which will talk about offers and sales; transactional emails that include welcome messages sign up confirmations, etc. and lastly, relational emails that give subscribers what has been promised, such as newsletters, gifts, relevant information, and so on. Sending the right engaging and responsive emails at the right time are essential to a successful campaign.
Get to know your customers
Defining who your customers are and what they want goes hand-in-hand with email marketing. A compelling email campaign can allow you to acquire new customers proving that you are providing engaging content. Think like a customer while tracing buying habits and trends. Ask your customers for feedback when possible, get to know whether they love or hate what you are doing, giving you ammunition for future marketing.
Measure your results
There are specific email marketing KPIs that should be measured to see the results of a strong (or not so strong) email campaign. There are key areas that you should focus on: Deliverability, Open rate, Clickthrough rate, and Unsubscribes. Many factors affect these areas, and it is all about test and track to see what works for your organisation.
Digital downloadable content
If you want to generate good prospects, then your organisation needs digital downloadable content. Why? Because this is a significant personal piece of data for an individual to open on an email. This can include checklists, reports, whitepapers, videos, and eBooks. Digital downloadable content is the best way to increase subscribers for your mailing list with them being interactive and can even act as incentives for potential buyers.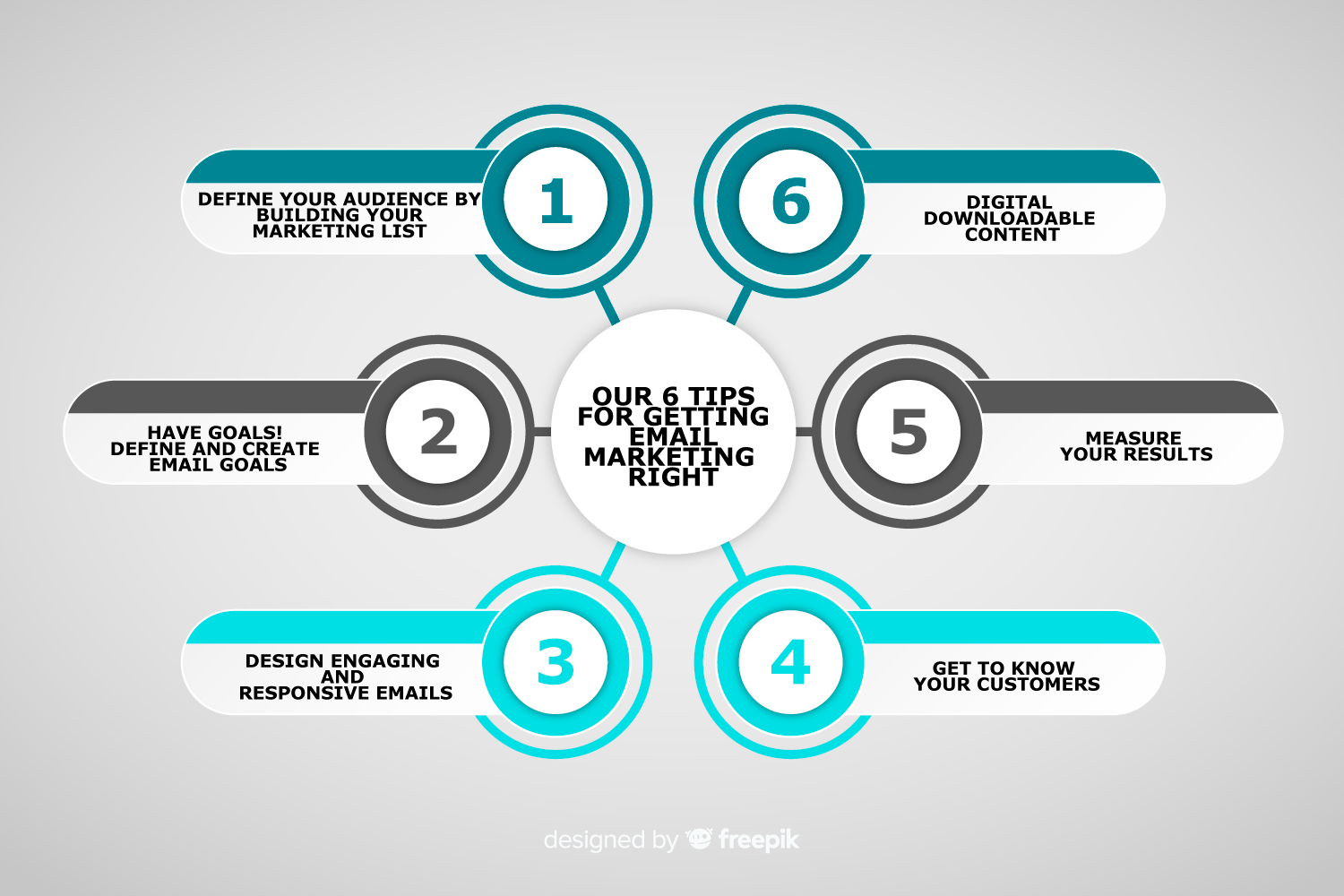 Email marketing is a learning experience from start to finish. Not all the same rules will apply to every organisation. Even though creating a successful strategy may take time hand-in-hand with a trial and error process, this guide gives you the tools to get you started for a successful campaign.
Microsoft Dynamics 365 is a business-wide suite of applications that enables your organisation to deliver personalised and purposeful buyer journeys made up of contextual content, marketing automation processes and crucial data insights. This solution allows you to create a 360-degree view of each customer to anticipate trends that define your business's marketing activity. It will not only let you connect to your customers and their journeys but will also improve their experience. To find out more about Microsoft Dynamics 365 for Marketing, or either of our Partner solutions including ClickDimensions and Dot Digital, contact us now.
Racheal Hehir
Marketing Executive