Microsoft announces 365 Copilot – AI integrated into Office 365
At m-hance we understand the passion and drive that fuels those in the charity sector to make a difference in the world. However, we also recognise the burden of mundane tasks that can distract from this purpose. That's why we believe in leveraging the power of cutting-edge technology to help you achieve your goals and bring your vision to life.
We are thrilled by the latest announcement from Microsoft, with the introduction of Microsoft 365 Copilot – a personal work assistant that uses the latest advancements in AI technology to revolutionise the way you work. By integrating large language models (LLMs) with the Microsoft Graph, a gateway to data and intelligence in the Microsoft 365 suite, Copilot transforms your everyday work tasks into a seamless and productive experience.
Satya Nadella, Chairman and CEO of Microsoft, said, "Today marks the next major step in the evolution of how we interact with computing, which will fundamentally change the way we work and unlock a new wave of productivity growth. With our new Copilot for work, we're giving people more help and making technology more accessible through the most universal interface — natural language."
With Copilot, you can optimise your workflow within the Microsoft 365 suite, including Word, Excel, PowerPoint, Outlook, Teams, and more. In addition, Microsoft is also releasing Business Chat, a ground-breaking new experience that integrates LLMs, Microsoft 365 apps, and your data (calendar, emails, chats, documents, meetings, and contacts) to streamline your work processes. Simply provide natural language prompts, such as "Tell my team how we updated the product strategy," and Copilot will generate a status update based on the latest meetings, emails, and chat threads.
Here at m-hance, we believe in empowering you to take charge of your work. Copilot provides you with the flexibility to modify or discard its suggestions and enables you to unleash your creativity, analytical skills, and collaborative potential. With Microsoft 365 Copilot, you can focus on what really matters – making a positive impact in the world.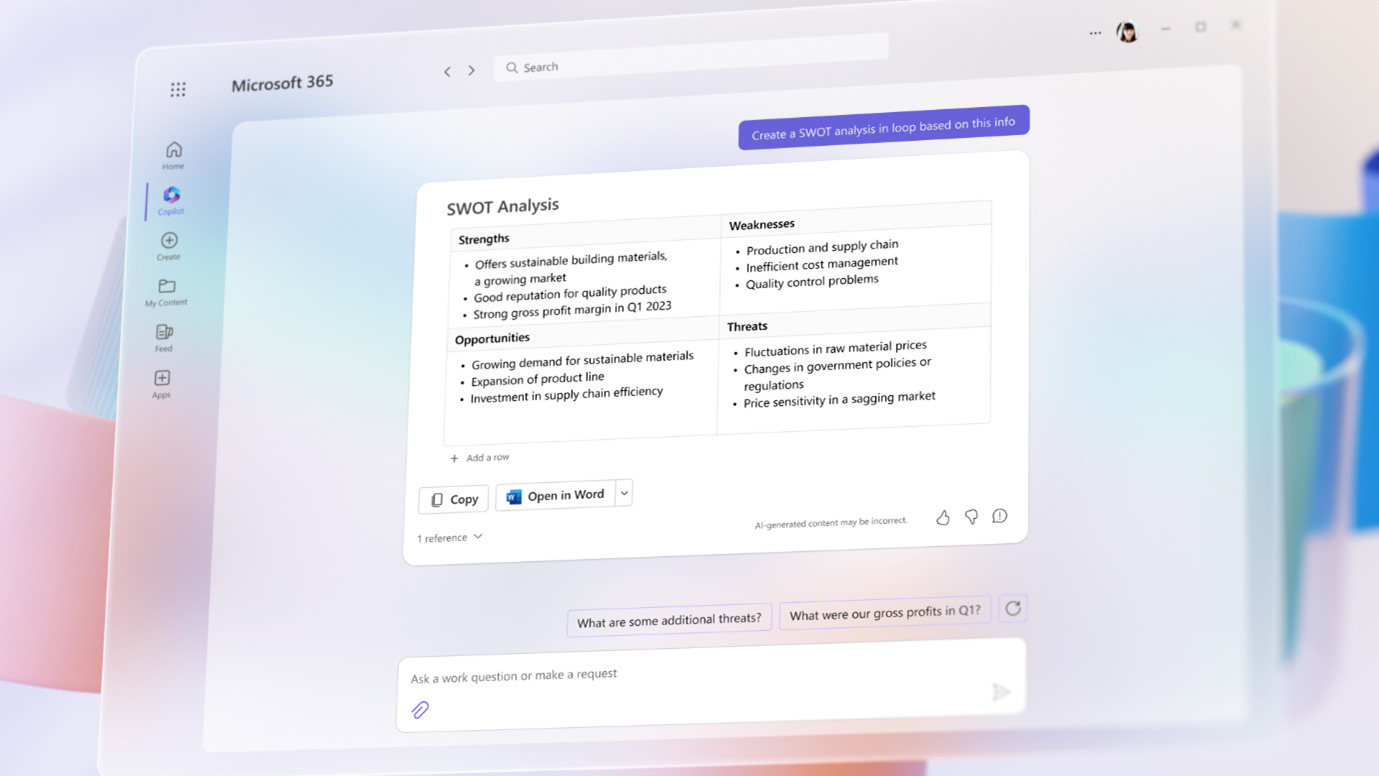 Microsoft 365 Copilot is a tool that transforms work in three significant ways.
First, Copilot unleashes creativity by jumpstarting the creative process, so you never have to start with a blank slate again. With Copilot in Word, you can save hours of writing, sourcing, and editing time by getting a first draft to edit and iterate on. Copilot in PowerPoint helps you create beautiful presentations with relevant content from a document you made last week or last year. And with Copilot in Excel, you can analyse trends and create professional-looking data visualisations in seconds.
Second, Copilot unlocks productivity by helping you focus on the 20% of work that really matters. With Copilot in Outlook, you can quickly draft suggested replies and summarise long email threads, clearing your inbox in minutes. In Teams, Copilot can summarise key discussion points, suggest action items, and make every meeting productive. And with Copilot in Power Platform, anyone can automate repetitive tasks and create chatbots, saving valuable time.
Third, Copilot uplevels skills by making you better at what you're good at and letting you quickly master what you've yet to learn. Using natural language, all the rich functionality of Microsoft 365 is unlocked, even for those who only use a handful of commands.
But Copilot doesn't just supercharge individual productivity. It creates a new knowledge model for every organisation, harnessing the massive reservoir of data and insights that lies largely inaccessible and untapped today. Business Chat works across all your business data and apps to surface the information and insights you need from a sea of data, so knowledge flows freely across the organisation.
We believe that Copilot will fundamentally change how people work with AI and how AI works with people. Embracing this new way of working will quickly give your organisation an edge, helping you achieve your goals more efficiently and effectively.
Authored by Curtis Elliott
Dynamics 365 Consultant