Charities are under pressure from the media, the government and their own supporters to take responsibility for the effects of their marketing campaigns and data management activity.
This is where Customer (or Volunteer) Relationship Management (CRM) solutions can be invaluable. But taking the decision to implement a CRM solution and selecting the right one for your charity can be a daunting process. Here are the top 5 key questions that our customers, organisations like yours, asked when they were considering their charity CRM solution.
1. Can I get a single view of my supporters?
Charity fundraising professionals expect to be able to access the full spectrum of supporter data. Yet many charities are missing out on opportunities because donor management solutions fail to combine information such as volunteer activity with donations.
Volunteers tend to donate twice as often to charitable causes as non-volunteers. So it's crucial that you can report on engagement levels amongst supporters who volunteers as well as those who donate.
A good NFP CRM solution will enable you to manage donations and pledges, track time donated by your volunteers, and obtain a 360-degree view of each supporter and volunteer. You should also be able to track results of programmes and fundraising campaigns, in order to show your donors the effectiveness of their efforts and donations.
Your charity CRM solution should also be able to bring together information from sources such as online giving platforms, interactions via your website and social media, and information from your finance system to provide that single view. From this, you should be able to profile, segment and target your supporters through in-built marketing functionality.
2. How do I make sure I'm complying with current regulations?
The use of donor-centric technology can help charities to engage in transparent fundraising activities and avoid issues such as harassment. When charities are asked to report on their activities, your CRM solution should have the tools to help you show total transparency. You should not only be able to control the security of your data, but also have complete auditability.
You should be able to see how many communications have been sent and on what subject. A request for a legacy is a sensitive subject and to avoid annoying potential benefactors, it's essential for charities to have comprehensive visibility of their own actions.
Find out more about the Microsoft security model that protects data integrity and privacy.
3. How can I see the impact of Online Giving on my campaign performance?
There is no doubt that charitable giving through online platforms is rising. It grew by 5.5% in the UK in 2018. Monitoring online giving donations within the context of your campaign performance metrics, significantly reduces time spent reporting and the inaccuracies that appear in your reports. Your CRM solution should integrate with all major online giving platforms as standard. It should enable you to manage donations and pledges and specify how to respond to money pledged through online giving integration. For example, your CRM solution should be able to automatically prompt a phone call to any donor who pledges more than £50.
4. Is it easy to reclaim Gift Aid?
As a charity, you can reclaim Gift Aid on donations made by UK income taxpayers, assuming they have completed a Gift Aid declaration. However, it can be difficult to manage Gift Aid because of the complexities surrounding what can and can't be claimed.
Your CRM solution should have built-in intelligence that automatically detects which payments are eligible for Gift Aid. It should then generate the required claim, ready for it to be checked and audited before submission to HMRC.
5. Can I effectively target my marketing campaign?
The most effective marketing campaigns are ones that send the right messages to the right people at the right time. It's essential for charities to understand their supporters in order to be able to talk to them in the best way using the most appropriate channel.
The intelligence captured by your CRM solution should help your charity to understand supporters' interactions and build targeted campaigns with the objective of generating long-term support. A/B split testing means you can trial a campaign message before broadcasting it to a wider audience.
You should be able to profile and segment your supporters into target audiences such as regular supporters or one-off donors. You should then be able to develop future fundraising campaigns using the channels that have been most successful. Or you could focus on those who give less or more than a certain amount each month and build fundraising campaigns for them.
Once the decision has been made to digitally innovate and develop a strategy that revolutionises your charity's internal systems and services, the CRM solution you choose to support this is vitally important. From one central place, you can build strategic marketing campaigns informed by data, report and track their fundraising performance, automate marketing activity and monitor social media conversations.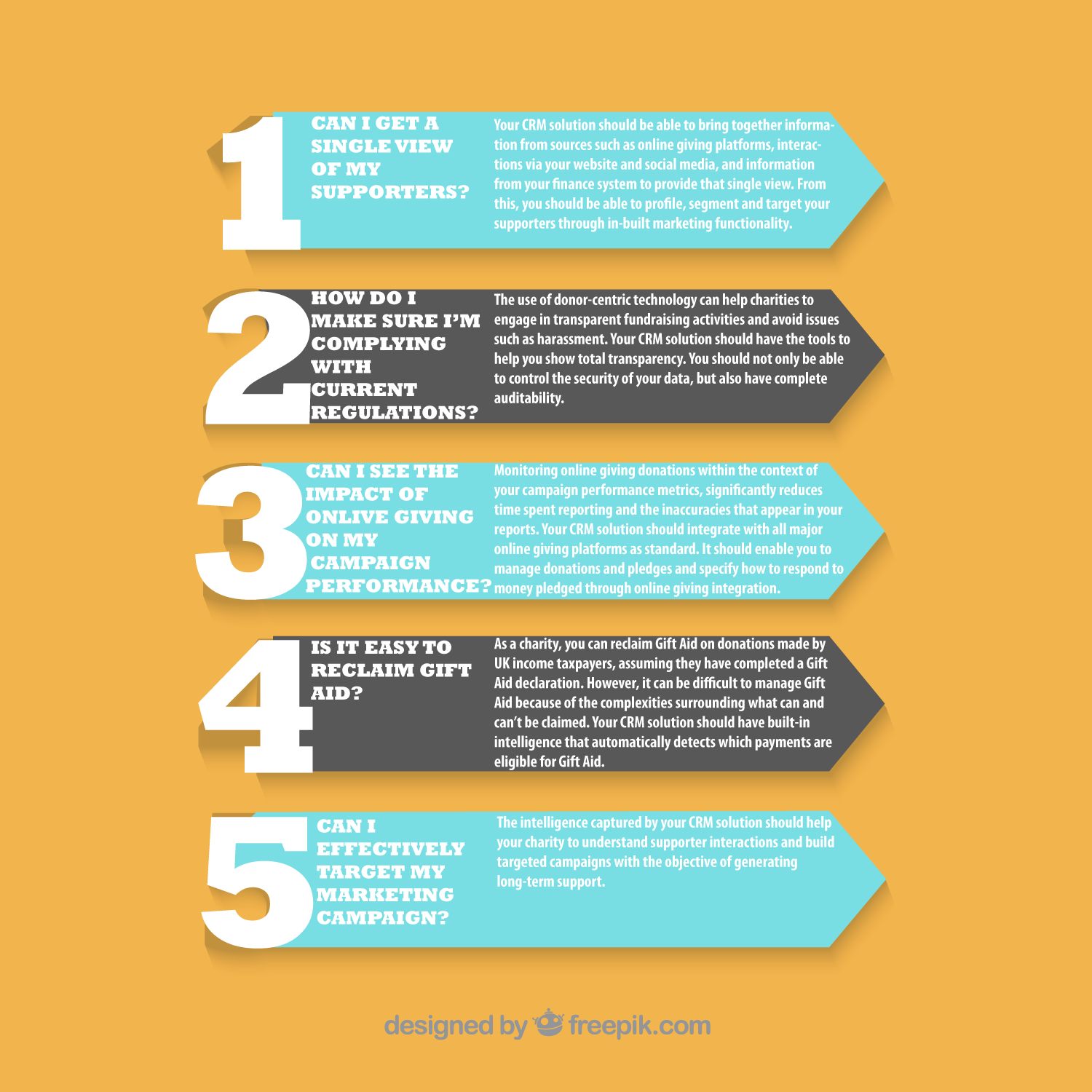 Choosing the right charity CRM solution
For further information about our NfP 365 CRM solution – which is based on Microsoft Dynamics 365 and tailored to the specific needs of charities – download our eBook on the "10 reasons charities choose Microsoft Dynamics 365 for managing supporter relationships."

Tory Cassie
NfP Specialist
Connect